We are in 2019, and still there are many parts of India where government haven't provided electricity yet. A future where India's power needs are met by renewable energy sources will demand substantial alterations to the way that electricity is generated and distributed. The Solar electricity rates are around Rs 5.50 to Rs 7.50 per unit which very less as compared to the grid electricity rate Rs 10 to 15 and Diesel Generator Rs 15 – 18 per unit.
Advantages of Solar Energy
Renewable Energy Source.
Reduced electricity bills.
Diverse application.
Low maintenance cost as solar modules have 25+ years life.
Technology developments may further reduces initial costs and electricity bills.
Types of Solar Power System
On-Grid Solar
A grid-connected PV system consists of solar panels, one or several inverters, a power conditioning unit and grid connection equipment. They range from small residential and commercial rooftop systems to large utility-scale solar power stations.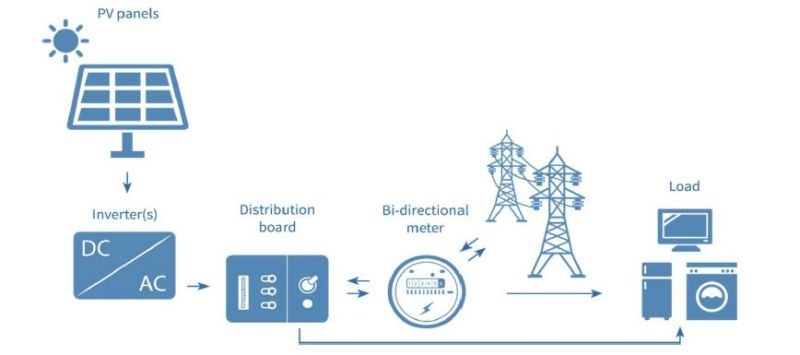 Off-Grid Solar
These systems allow you to store your solar power in batteries for use when the power grid goes down or if you are not on the grid. Hybrid systems provide power to offset the grid power whenever the sun is shining and will even send excess power to the grid for credit for later use.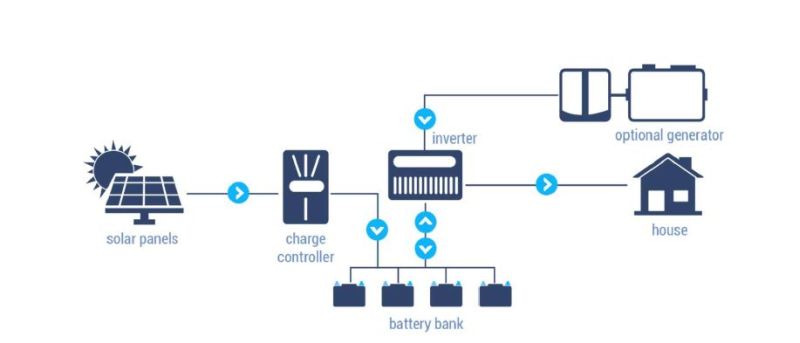 Hybrid Solar
Hybrid solar systems generate power in the same way as a common grid-tie solar system but use special hybrid inverters and batteries to store energy for later use. This ability to store energy enables most hybrid systems to also operate as a backup power supply during a blackout, similar to a UPS system.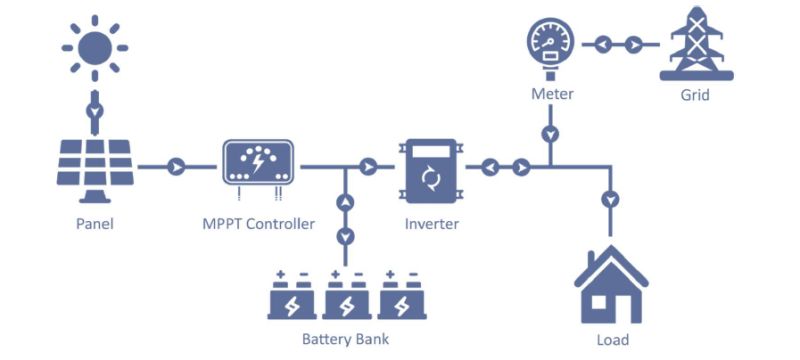 How Solar Power System Work?
Although solar is becoming more popular everyday people still don't know how solar panels work. Certain competing energy concerns have campaigns to discredit and confused consumers on how solar energy is generated. There are many considerations in regards to solar and distinctions between residential and industrial, between being off the grid and connecting the grid. This simple guide will outline how Solar Panels Work. Here's a quick "how solar panels work" guide to the steps that it takes to turn sunlight into electricity using solar panels:
Every day, light hits your roof's solar panels with photons (particles of sunlight).
The panel converts those photons into electrons of direct current ("DC") electricity. Naturally, the sunnier it is, the more energy is produced by the panels.
Those produced electrons flow out of the panel and into an inverter and other electrical safety devices.
The inverter converts that "DC" power into alternating current or "AC" power. AC power is the kind of electric juice that your elevision, computer, and toasters use when plugged into the wall outlet.
A bi-directional meter keeps track of the all the power your solar system produces. Any solar energy that you don't use immediately will go back into the grid through the meter. Then at night or on cloudy days, that extra solar juice is credited back to your bill. So, net metering is similar to having a virtual battery-back up system (we explain more about grid-tied solar home solar systems later).
Some homes will store the energy created from solar panels with a battery, this is as common as connecting to the grid.
Solar panels that can avoid shade, can maximize sun coverage will produce the most solar energy power.